Full Mouth Makeovers for Portland Smiles
Change your smile. Change your life!
What can a full mouth makeover do for your smile?
Portland Full Mouth Makeover is a Perfect Solution For Your Smile
If your smile's aesthetics and health need to be addressed, then we may recommend a more comprehensive treatment plan. This is also known as a full mouth makeover.
Restoring the healthy function and foundation of your smile is the first step. Then, the finishing touches can be added with cosmetic options for a breathtaking smile.
Our Portland cosmetic dentists will use a combination of both restorative and cosmetic dentistry to makeover your smile, which could include:
Dental Implants – We can replace missing teeth with implants that will look, feel, and function like your natural teeth.

Crowns or Fillings – When a tooth has become damaged because of decay, a beautiful, strong dental crown or composite fillings will make it whole again.

Root Canals – If a tooth's damage is too severe, then it's a root canal to the rescue. We can stop the pain and save your tooth!

Teeth Whitening – Nothing looks healthier than a bright, white smile. We can remove years of stains and build-up in just minutes.

Porcelain Veneers – Veneers can improve the appearance of your smile instantly! They can change the color, shape, and size of your teeth.

Invisalign – Adults and teens can discreetly, quickly, and effectively straighten their teeth with this modern orthodontic solution.
What are some of the benefits of full mouth makeovers?
Many people are embarrassed to smile or lack confidence in social situations because of the condition of their teeth. A makeover will give you a smile you are proud to share with others!
It's important to repair damaged, decayed, or broken teeth, not only for your oral health, but for your whole-body health as well. You'll look better and feel better.
Have you been skipping some of your favorite foods because they are just too hard to chew? Having a full set of healthy and functioning teeth will let you eat what you want again with full confidence and enjoyment.
Why choose Bling Dental for your full-mouth makeover?
Here's What Makes Your Portland Dental Makeover Specialists The Best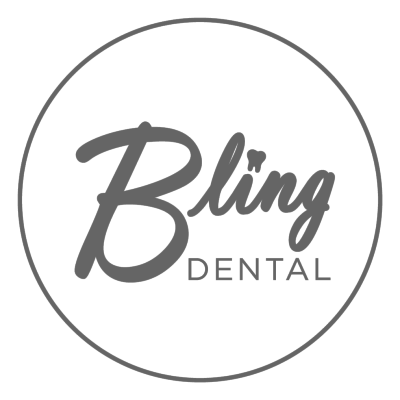 The dentists and team at Bling Dental will make your smile makeover journey one of the best you'll ever have at a dental office. We treat each of our patients like the VIPs they are and ensure your comfort with first-class amenities, such as:
· Warm, cuddly blankets
· Massage dental chairs
· Ceiling-suspended TVs
FAQs about full mouth makeovers
How long does it take to get a makeover?
It depends on what treatments your smile needs. Many restorative and cosmetic procedures can be done in just one visit, and in combination with each other. Our dentists will outline a comprehensive, customized treatment plan that will provide details of what to expect and when you will enjoy your beautiful, new smile.
Can I get my metal fillings replaced during a full mouth makeover?
Definitely! Bling Dental offers composite fillings to replace unsightly metal fillings. Composite fillings are color-matched to blend in beautifully with the rest of your teeth, no one will even know you have a filling.
How much will my full mouth makeover cost?
Costs will vary because the treatments used for a makeover depend on the individual needs of the patient. We will be happy to work with your insurance company to make sure any procedures covered by your benefits are applied. Before any treatment begins, we will let you know which services will be covered by your dental insurance and what kind of out-of-pocket payments, if any, you can expect.
Ready to start your journey to a new smile? We are!